Project completed 01 May 2019
After 10 years in Eastern Creek, Fujitsu General Australia had outgrown its head office premises. Landlord Jacfin Pty Ltd offered to develop a bespoke building and separate distribution centre. The new design set out to be a 5-star Green Star energy building in the commercial precinct of Eastern Creek, offering employees and visitors a unique experience, and demonstrating sustainable building and interior fit-out practices.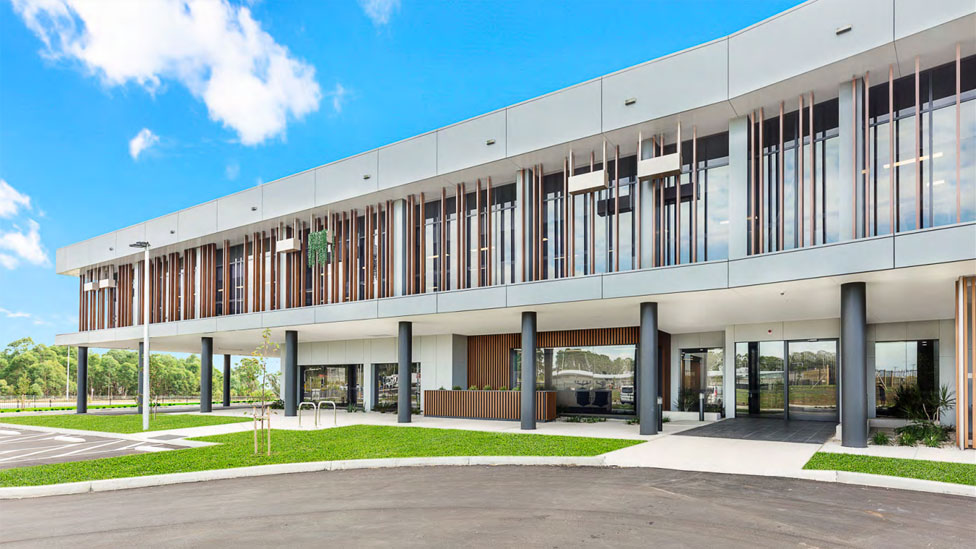 Background
It was also an opportunity for Fujitsu General to be part of the entire design process, including the specification of the HVAC solution, which it had been unable to do with the previous location
The Project
Working in close consultation with Fujitsu General, the new headquarters was designed from the ground up to deliver a work environment that would meet the needs of the organisation for the next 20 years, both functionally and culturally.
Prior to construction, employee feedback on the new design was encouraged. The result was an 11,093 sqm state-of-art, open plan office with collaborative working spaces, the latest sit/stand desks, natural light throughout, wellbeing spaces, and fun zone.
Officially opened in May 2019, the new headquarters also includes an on-site gymnasium, auditorium, outside green areas, covered carpark, modern indoor kitchen facilities, and outdoor lunch and barbeque facilities, as well as an 8,500 sqm distribution centre.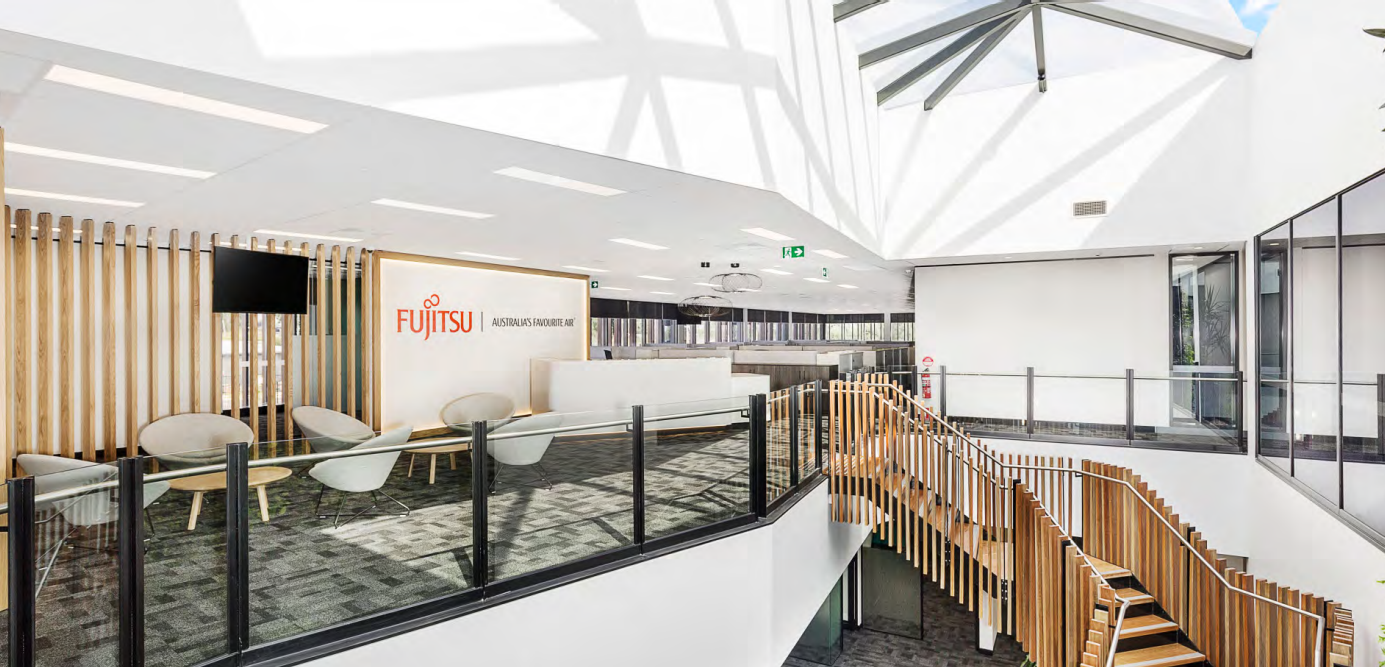 Tailored Solutions
A Fujitsu General VRF Heat Recovery system was installed, including a combination of ducted indoor units for meeting rooms and offices where individual comfort and control was required. The open plan office is serviced by high static ducted indoor units which are concealed and allow for flexible installation when ducts are installed.
The system has a focus on higher capacities and airflows to meet the requirements of the building with quiet operation designed to use electricity efficiently and effectively.
To minimise human involvement and optimise office space comfort, VRF Heat Recovery outdoor units were installed which are ideal for large facilities such as commercial offices.
The heat recovery operation allows for simultaneous cooling and heating for individual indoor units in rooms with large temperature variances. With remote temperature sensors giving feedback to the indoor units, the Single Port and 4 Port Refrigerant Branch units provide comfort in each zone all day long.
Central control systems were also installed to provide smart energy management across the premises. Energy saving technology helped achieve the building's green credentials, with the use of operation timers for set times and seasons.
On top of individual control, all meeting room units have an Auto Off timer feature activated on the controller. This means when a unit is turned on, it will run for a set period of time before turning off automatically. This feature ensures that the units are not left running in unoccupied areas of the building unnecessarily during work hours.
A BACnet Gateway has allowed the units to be connected to the buildings BACnet Building Management System allowing high level control of the units along with the other items on the site under the control of the BACnet BMS.
Fujitsu's UTY-DTGYZ1 Touch Panel Controller allows control of the units from a central location on site with the unit's individual controllers available for day to day adjustment in line with limitations which has been set from the High-Level Building Controls.
Outcome
In partnership with Jacfin Pty Ltd, Fujitsu General Australia facilitated the development of a world-class working environment. The building design enables the business to be energy efficient and help minimise its environmental footprint through the inclusion of timber and modern materials, as well as plants with a reticulating irrigation system. Solar energy is captured via 365 roof panels, and rainwater is recycled for toilets, and irrigation of green walls.
The new headquarters and distribution centre received the 2019 NSW Master Builders Association award for 'Excellence in Construction of Industrial Buildings $10 million – $25 million'.
Product Overview
7 x VR-II Systems (12 Modules and 36 Indoors)
2 x Ducted Split Systems
1 x Wall Mounted Split System
1 x Central Controller (UTY-DTGYZ1)
1 x Converter (UTY-VBGX)
Total Capacity of Condensers: 404.3kW
Download Case Study PDF